As parents and educators, we are more aware and reminiscent of the tragedy of September 11, 2001.  However, 15 years later, our children have little to no context of what the destruction of the World Trade Center truly means to adults and to the country, as a whole.
For me, 9/11 was the first national tragedy that I was old enough to understand and comprehend--and it opened my eyes to the terrors of the world.  It also opened my eyes to the compassion, integrity, and bravery of an incredible amount of citizens of the United States of America--from the police officers to the firefighters, to our friends and family, to strangers we'd never seen before, but with whom we held hands and wept for those lost.
It's hard to imagine anyone can ever forget this famous photo, forever ingrained in our nation's history.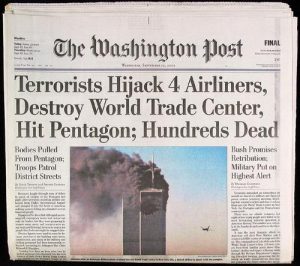 Today, as parents and educators, we must find a way to communicate the importance of this day in our nation's history and how it has impacted our lives and our country.
Here are a few tips to approach this important, yet scary topic
911Memorial suggests the following ideas:
Listen: Some children will want to talk, some won't--but it's important to be patient and offer a safe space.
Don't avoid difficult conversations: Remember, it's the attack themselves that are upsetting, not necessarily the conversation.
Answer questions about the attacks with facts: It is important to separate our own experiences with the facts from that day.  Do research together to find some new information!
Acknowledge we don't have the answers: It happens--we don't know everything. Turn this into a learning experience with your child.  Research and read together!
Emphasize hope: The attacks showed us the worst in people, but it also showed us some of the best.  Make sure to show your children all the hard work local law enforcement, volunteers, and friends and family contributed to the support of those lost in this tragedy.
Scholastic has an incredible amount of age appropriate articles and stories not only from 2001, but from the years since.
Check out Scholastic News at: http://www.scholastic.com/browse/collection.jsp?id=844
And BrainPOP has created a site with interactive learning resources appropriate both for the classroom and at home.  This site does require a subscription, and the prices are listed for each age range.
You can find more at: https://www.brainpop.com/socialstudies/ushistory/september11th/
Lastly, you can find an incredible amount of information at Arapahoe Library District.  Find the Reader's Advisory list through the ALD website!