Concept Library
Did you know that Castlewood Library is the concept library for Arapahoe Libraries? Castlewood staff try out concepts that if successful are then implemented at other Arapahoe Libraries.
For example, did you know that TV series and movies used to be shelved together? Castlewood tested out separating these, and our patrons liked it so much that other Arapahoe Libraries locations also changed the way they organized their DVDs.
Since 2020 was an odd year, we decided to switch up our concepts and try DIY (do it yourself) mask making. We began with this question in mind: What is the best mask to make at home?
Mask Making
Now I know what you're thinking, "We've been wearing masks since March of 2020, why would you want to try this out now?" Well, why not?
DIY masks help people save money on buying multiple mask packs and help the environment by reducing waste from disposable masks. We also wanted to highlight this for people who have an interest in making their own masks, but didn't know where to start.
Think of this concept as a Makerspace class without instruction.
Four Castlewood employees tested out three simple mask patterns that claimed to be easy for beginners to make.
Pattern 1
The first pattern is the "Origami Style" face mask created by SeeKateSew.com, opens a new window.
This was our overall favorite. It's meant to replicate an N95 mask with its shape. It was one of the easier patterns to make. The website and tutorial that we used was clear and you can customize the mask based on size. You could also include a filter pocket if you wanted to add an additional layer of protection. You can also include a nose strip.
Website Tutorial rating: 5 out of 5 stars.
The website is easy to read and navigate and is not crowded with ads. It has multiple links for tutorials, a YouTube channel, blog postings and patterns. The website provides multiple patterns for other projects that are free or you can purchase. There is a step-by-step tutorial with pictures and a quick video tutorial on the website so you do not have to click around. 
Can you add a filter pocket: Yes
Can you do this without a sewing machine: Yes
Time it takes to make: Less than a day
Pattern 2
The second pattern we tried is the "Ninja/No Sew T-Shirt mask" by JenniferMaker.com, opens a new window.
This was the fastest to make, however the shape of the mask sits against your face. It might be the easiest to make, but washing the mask over time can make the glue come off and the mask can fall apart. This mask also felt like it does not add enough protection. Only one staff member who made this mask liked it because it was quick and easy.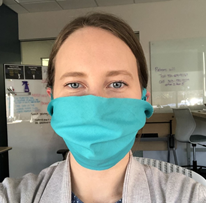 Website Tutorial rating: 4 out of 5 stars.      
The website has multiple links to different face mask patterns you can make. The layout is a little crowded, but only because it has a lot of information. It does have a lot of good FAQs (frequently asked questions) about masks and mask wearing, and there are some cool non-fabric tutorials you can make like star lamps. This was more of a DIY website for craft lovers.
Can you add a filter pocket: No, but it claims you can put a filter inside.
Can you do this without a sewing machine: Yes.
Time it takes to make: Less than a day. Only an hour if you are fast.
Pattern 3
The final pattern we tried is more of a traditional style of mask that you can buy and see almost everywhere nowadays. We call this the "Traditional" style mask. This tutorial was found on the YouTube Sewing Channel, opens a new window.
The traditional style was our second favorite, but this took a lot more time to make. There are multiple patterns like this one that YouTube recommends where you can customize the size and include a filter pocket if needed. This one takes the most time to make since it is a little bit more complex.  
Website Tutorial rating: 3 out of 5 stars. (It is YouTube.)
Since this tutorial is on YouTube, you do have to click around to find the information you need to make a mask. It also has other videos that you can reference if you are more of a visual learner. If you want to watch and do this step by step, just pause and restart the video as needed. It has multiple links to supplies and ads, but it is the nature of the beast on YouTube.
Can you add a filter pocket: Yes, it offers a different but similar pattern for you to use on a different YouTube link.
Can you do this without a sewing machine: Yes, but it will be very time consuming.
Time it takes to make: More than a day, since this is the trickiest.
Here are the materials we used:
Two different colors of 100% cotton fabric
Shoestrings for ear loops
Aluminum metal strips for nose pieces
Sewing thread
Adjustable thread beads (for the ear loops)
Here are the tools we used:
Singer sewing machines
Fabric scissors
Rotatory cutter
Rulers
Hands (for hand sewing)
Paper patterns
Needles and pins
Chalk or makers for cutting out the patterns
Was this concept a success? Yes!
Three people who have never sewn before were able to complete this concept. Thanks to those who volunteered.
It shows that anyone can do this if you are willing to learn a new skill! (Especially in these trying times.)
We would like to state that the best mask depends on your comfort level. Some mask patterns might be great for some people but not for others.
We hope this concept inspires you to learn new skills. Thank you for your interest.