Sometimes navigating around the Denver Metro area can be overwhelming. "Should I drive?"..."Or could I walk?"..."Or what about Uber?"..."Which decision is best for my wallet, my health or the environment?"  Now there's an app that can help you answer questions like these. It's called the Go Denver app and it's completely free! You do need a smart phone or I used my ipad.
Go Denver is basically google maps with a lot more options and information. Here is an example of a trip from the Denver Zoo to the 16th street mall: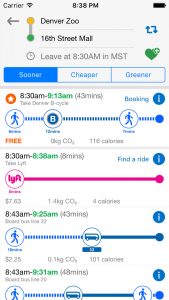 The results shown are just the top of the list.
You can sort your results by:
the fastest way
the cheapest way
the healthiest way
the greenest way
Check out Go Denver at: http://godenverapp.com/.   Don't forget, if you need help, you can always "book a librarian" and we would be happy to help!