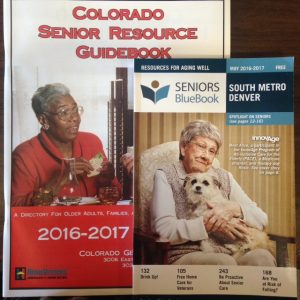 Sometimes when you are looking for a specific resource, it can be overwhelming. Fear not! We have two resources that can be extremely helpful when looking for doctors, housing and services specific to seniors. These resources are very current 2016-2017:
Seniors BlueBook, South Metro Denver: The BlueBook covers a broad spectrum of services from activities and entertainment to assisted living and hospice care.
The Colorado Resource Guidebook: This resource is put out by the Colorado Gerontological Society and the resources are more specific to seniors and their families that need information regarding topics that include; medicare physicians, home care, assisted living and advanced directives.
You can find these resources at your local Arapahoe Library, any staff member will be more than happy to direct you.