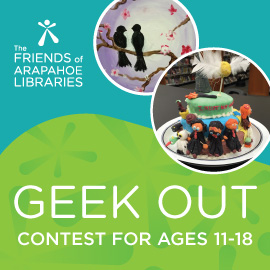 Please fill out the form below for the Geek Out Contest. If you prefer to bring a paper copy with you, the official entry form (PDF Document) is available to download and print. Instructions for emailed entry submissions requiring an attachment will be supplied on the confirmation page of this form.
The contest deadline is Wednesday, November 30, 2016.
For questions, contact our Young Adult Services Librarians by email
or phone at 303-391-3162 or 303-391-3164.
Disclaimer
By entering the contest, entrants grant the Arapahoe Library District a royalty-free, worldwide, perpetual, non-exclusive license to reproduce, display, distribute, and create derivative works of the entries, in whole or in part, in any media now existing or subsequently developed, for any educational, promotional, publicity, exhibition, archival, scholarly and all other library purposes. Any entry reproduced will include a credit as feasible. The Arapahoe Library District will not be required to seek any additional approval in connection with such uses.