Spend an evening with New York Times best-selling author Tayari Jones, who will discuss her most recent novel, An American Marriage: A Novel, a love story torn apart by social injustice. Selected for Oprah's Book Club, this stirring masterpiece is an insightful look into the lives of three people separated by forces beyond their control. Enjoy light refreshments and a book signing. BookBar will sell copies of Jones' books onsite. For adults.
Published in 2018, An American Marriage also appeared on President Barack Obama's summer reading list and was awarded the Women's Prize for Fiction. Jones is an A. D. White Professor at Large at Cornell University and the Charles Howard Chandler Professor of Creative Writing at Emory University. Her other books include Silver Sparrow, The Untelling and Leaving Atlanta.
SUSAN ORLEAN
Rescheduled; date to come.
Spend an afternoon with the author, who will share her passion about libraries and what led her to write this compelling read. A television series based on The Library Book is in the works through Paramount TV.
Orlean, best known for her novel The Orchid Thief, was also a former writer for The New Yorker magazine and a contributing editor for Rolling Stone and Vogue magazines.
Celebrated novelist and New York Times best-selling author and historian Philippa Gregory has written several works that have been adapted to film, including The Other Boleyn Girl. Gregory shared about her newest novel Tidelands, which is set in the 1600s during the English Civil War.
New York Times best-selling novelist Madeline Miller is a mastermind at weaving heroes from ancient tales into her page-turning suspense novels. Miller enchanted readers with her fresh take on Greek mythology in her latest release, Circe. The novel brings a new perspective to an epic adventure from a lesser known character in The Odyssey. Miller's first book, The Song of Achilles, is an intriguing re-telling of the Trojan War (and winner of the 2012 Orange Prize for Fiction).
New York Times best-selling author Nnedi Okorafor discussed her acclaimed novel, Who Fears Death, slated to be an HBO series.
Okorafor's African-based science fiction and fantasy novels include the "Binti" trilogy and Akata Witch, plus several "Black Panther" Marvel comic books and a series featuring Black Panther's sister Shuri.
If you missed the event, check out the video!
Laurie Halse Anderson shared about her popular young adult fiction, including her debut novel Speak which captures the emotional journey of an isolated teen navigating high school life.
Anderson's books have sold more than eight million copies. Anderson has won several international, national and state awards and has been recognized for her efforts in championing intellectual freedom and diversity in publishing.
Andreas M. Antonopoulos, best-selling author and expert, discusses the future of programmable money. Check out some of his best-selling books.
If you missed the event check out the video!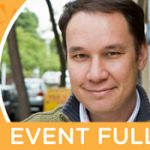 Jamie Ford, author of the New York Times best-selling Hotel on the Corner of Bitter and Sweet and Songs of Willow Frost, returned to Arapahoe Libraries to discuss his latest novel, Love and Other Consolation Prizes.

Local Denver author Cynthia Swanson can't wait to share her latest novel, The Glass Forest, with readers. Set in 1960's Wisconsin, this suspense read tells the story of a once-idyllic family whose life is changed forever with a single phone call. The self-described writer and interior designer's first book, The Bookseller, has been slated for a movie featuring actress Julia Roberts.
If you missed the event, check out the video!