If you'd like to take studio equipment on the road, take a look at these kits that are now available for check out! To borrow an A/V kit, request a one-on-one appointment. Please submit your reservation requests at least three (3) days in advance as an appointment with a librarian is needed before checking out an audio or video kit.

Nikon D3400 Camera Kit
Record video at 1080/60p Full HD video or capture five photos per second.
Nikon Camera Kit includes:
Nikon D3400 camera with lens, charger, strap, user manual
Manfrotto Tripod
---
Wired Lavalier Kit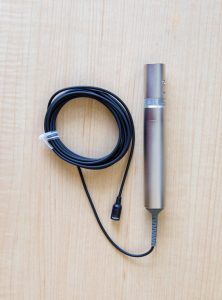 Wired Lavalier Kit includes:
One (1) Sony Lavalier Microphone
One (1) XLR cable
---
Boom Kit
Capture clear, directional audio on all your subjects when you use a boom microphone and boom pole.
Boom Kit includes:
One (1) Rode Boom Pole
One (1) MKE 600 Boom Microphone 
One (1) XLR cable
One (1) Shock Mount (not pictured)
---
Wireless Lavalier Kit
Record audio with this lavalier (also called lapel) mic. 
Wireless Lavalier Mic Kit includes:
Audio-Technica Wireless Microphone Set
---
3 Point Lighting Kit
Illuminate and enhance your subject in your photography and videos with 3 point lighting.
3 Point Lighting Kit includes:
Three stands
Three (3) softbox diffusers
Ten (10) photofluorescent bulbs 
---
Zoom Kit
Record four-track audio for movies, music, podcasts and more with the Zoom H4n Pro. Pairs with any of the Mic Kits.
Zoom Kit includes:
One (1) Zoom H4nPro Handy Recorder