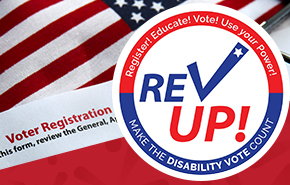 Arapahoe Libraries has teamed up with EveryLibrary to help spread the word about National Disability Voter Registration Week, July 17-21, 2017.
This effort, known as the REV UP Campaign, aims to increase the political power of people with disabilities while engaging candidates and the media to recognize the disability community. Learn more about this campaign, resources and voter information on the American Association of People with Disabilities (AADP) website.
REV UP stands for Register! Educate! Vote! Use your Power!