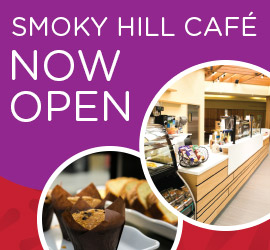 mmmm… Smell that? That's the enticing aroma of a fresh cup of coffee awaiting your arrival at the Smoky Hill Café.
The café features coffee from local Coda Coffee Company, named Roast magazine's 2014 Macro Roaster of the Year. Food and drink offerings include smoothies, cappuccinos, teas, breakfast burritos, sandwiches, salads, baked goods, snacks and more.
While there, check out the Friends Used Book Store.