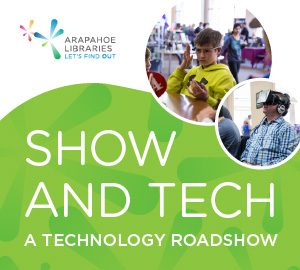 Technology is constantly evolving, and we want to let you try it in person. That's why the Arapahoe Libraries offer a traveling technology show that provides hands-on demos of the latest in tech (without the sales pitch). These technology resources currently include:
Augmented Reality: Microsoft HoloLens and Google Glass
Virtual Reality: Oculus Rift and the Samsung Gear VR
Robotics: Dash and Dot, Sphero, Finch and the Beam+
Drones: The AR Parrot Drone and Syma Drone
Cameras: GoPro Cameras and the Theta 360 Camera
Digital Resources: eBooks, eAudiobooks, eMagazines, Downloadable/Streaming Music & Video
And more!
For devices available to check out, view our Technology page.
Looking for tech tips, project ideas, and other technology happenings? Check out our Tech Tips blog.
Book a Technology Show for Your Organization
A Show and Tech is the perfect opportunity to engage in a fun, social setting with your coworkers or friends. This 60-minute program lets everyone learn and go hands on with the big, up-and-coming technology of the future.
We can bring our Show and Tech to your local nonprofit, community, or for-profit business or group at no charge.
For more information or to book a Show and Tech, email us with your organization's name, expected group size (minimum 8), and prospective date (must be at least 30 days in advance).
Check out our other Technology Events.