IN PARTNERSHIP WITH GREENWOOD VILLAGE
, opens a new window
The Village Read is a chance to connect with your community through the love of a good book. Join us as we read Rush, a historical fiction novel by award-winning Colorado author and artist Jayme H. Mansfield.
Borrow a copy of the book or eBook. Books will be available for purchase at The Village Read Kickoff on August 1 at 6 pm at Koelbel Library. Remaining books will be available to purchase at the Koelbel Library Cafe while supplies last.
Mary Louisa Roberts won the race of a lifetime—or so she thought. In competition with desperate homesteaders, ruthless land seekers, and a sheriff determined to see her fail, Mary rides out on a horse to strike her claim in the Oklahoma Land Rush of 1893. When she finally thrusts her flag into the dirt, 160 acres becomes her own. But with that claim, she risks more than she could ever imagine.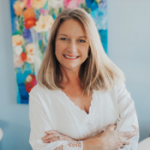 Loosening the reins and leaning into a creative life—that's Jayme's sweet spot as an author and artist. Jayme lives at the base of the Colorado Rocky Mountains where she and her husband have survived raising three hungry, hockey-playing sons. Currently, two very needy Golden Retrievers run the roost.
VILLAGE READ EVENTS
No related upcoming events.
EXPLORE HISTORICAL FICTION