DESIGN A BOOKMARK CONTEST
To enter, pick up an entry form at one of our libraries or download the form and print it out starting February 1 through Feb 28. Design your bookmark in the space provided then turn in the completed form by mail or at the library.
Entries will be accepted
February 1–28, 2022
Enter for a chance to win art supplies, gift cards and printed copies of your bookmark.
Winners will be announced by March 18, 2022.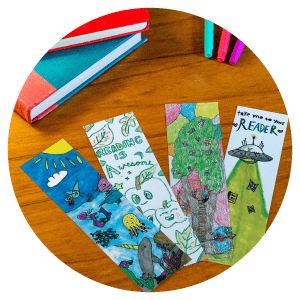 Your child's bookmark should be their original creation. Please avoid copyrighted images.
One entry per child please.
Use the bookmark space provided on the entry form. Please leave the entry form intact.
Make sure the hand writing is legible on the printed entry form.
Please do not include personal information, such as your name, on the bookmark.
Art supplies such as crayons, paint, markers and colored pencils may be used. Please do not use computer generated images or materials such as glitter or glued items.
Participant must be a Colorado resident between the ages 5–12.
No prizes, awards, or any other type of recognition will be given to any entry by Arapahoe Libraries employees or their family members.