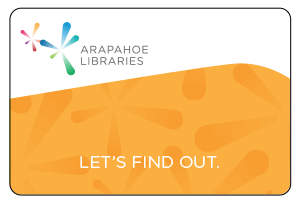 See your favorite color? Great! We'll make it your new library card. C'mon in to one of our libraries and we'll get you started.
What you'll need:
A photo ID, proof of address and a sense of adventure!
We can't wait to show you all the library has to offer. We have the books, DVDs and music you're looking for, but you'll also find everything from storytimes and coffee shops to green screens and robots. We're sure we can find something to wow you.
With your card you can:
Not 18? No problem! You can't ditch your parents or guardian just yet, but with their permission you'll enjoy all the same library perks.
Can't make it to the library? Just call 303-LIBRARY during library hours and we'll get you started with a temporary card. You'll be able to place up to 2 holds on library materials and have access to all our online resources.
Don't live in Arapahoe County? That's okay, we love to share. We issue Colorado Library cards to any Colorado resident with a photo ID and proof of address. Once you're in, you're family and you'll have all the same benefits as our local patrons.
Just passing through? Colorado is great, isn't it? With a temporary library card you can check out up to 7 items, reserve library computers, access digital content like eBooks and eMusic, request and renew items online, and explore our online resources.
Temporary cards are also available to patrons in temporary housing such as homeless shelters or rehabilitation facilities. We want everyone to have access to our libraries.
Hope to see you soon!