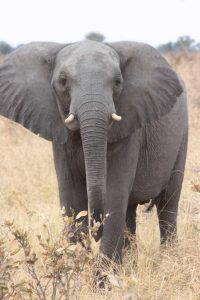 Artist: Sheldon Spiegelman
Koelbel Library
Artist's Statement: I hope you enjoy my WINDOWS TO THE WORLD.  I have long had a passion to travel and photograph the places I have visited.  It's all about the people I meet; the lives I learn about; and the experiences I have been able to share.  It is an extremely fascinating and changing world out there.  I have been fortunate to travel to many interesting parts of it.  Among my travels, I have been to Petra in Jordan; Ankor Wat in Cambodia; the Alhambra in Spain; Cappadocia and Pamukkale in Turkey; Tikal in Guatemala; Okavango Delta in Botswana; and the Great Wall of China. And still there are many, many places on my list of places to see.
My passion has been to photograph PEOPLE.  However, my trip to Botswana and Zimbabwe in Africa gave me an appreciation for the ANIMAL world unlike I had ever seen before. I have enjoyed including many of those pieces in my recent exhibits.
---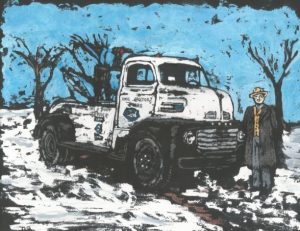 Artist: Dick Gallagher
Southglenn Library
Dick Gallagher was taught the inked technique you see by his daughter, Katie. Since his retirement he has painted close to 100 paintings of classic cars and trucks. See Inked Car Art on Etsy.com for more images.
---
Artist: Science, Art and Sport Center for Children
Eloise May Library
Science, Art and Sport Center for Children in Denver is a non profit organization that was founded in 1993. We provide a quality learning experience for over 200 participants spanning the ages of 3 to 18. The Center's philosophy is to involve children in programs that will excite them about learning and are taught by highly professional teachers and coaches. 
The Art exhibition, "Talented Fingers," is the result of the creative activity of my talented students. It clearly demonstrates their artistic and aesthetic development and creative abilities. While creating their art, children learn to see and appreciate the unique beauty of different images, different directions and methods, and various topics and ideas that are embodied in finished works. But the most important aspects are the mood, feelings,  and emotions that are involved  in every child's work. All the presented works bear a special energy and create a mood of harmony.
In our Art classes, we work on various art forms, such as painting, drawing, sculpting, and others. Art lessons are intended to develop children's essential skills, imagination, and creativity. The students get acquainted with art history, and a wide range of materials and styles. Arts and crafts are essential to enriching children's   life, to the formation of their emotional attitude toward the world, to the development of aesthetic knowledge, and to fostering artistic taste, and finding their place in society. 
We happily invite you to enjoy our exhibition!