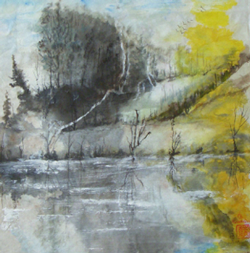 Artist: Pushpa Sunder Mehta, MD
Koelbel Library
Artist's Statement: My art is an expression of my heart and soul; a search for "Truth" and admiration for nature and life. I want my art to be purposeful, free and inspiring. The will to continue with my art comes from the Loving Heavenly Voice that tells me "keep up with your art." The driving force in my fingers to hold the brush and create original art is a gift of "True Love" from my family. As I progress on the path of an artistic pilgrim, I seek to engage viewers into an artistic consciousness to love and respect Mother Earth.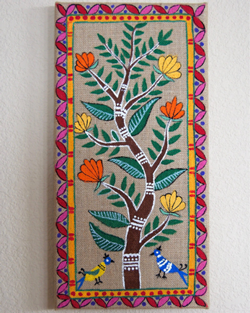 Artist: Shilpa Gadgil
Southglenn Library
Artist's Statement: I am from the colorful land of India. It has many tribal arts. I am presenting two art forms. Warli art is from the state of Maharashtra. The paintings are done on walls with white chalk color by hand and scenes from daily life. Madhubani art is from Mithila region of India. It represents mythological scenes and natural world.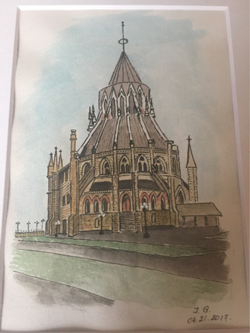 Artist: Isaak Gelfand
The Artistic Experience
Eloise May Library
Artist's Statement: I was born in a village in Belarus (former Soviet Union) in 1947. My love for photography started at the age of 9 when I started taking pictures with a "Zorkiy" camera that was given to me by my father. The Gelfand family immigrated to the United States of America in 1989 and immediately came to Denver, CO. I was a Civil Engineer in Belarus. Once moving to America, I worked as a Quality Control Specialist for US Quality Furniture Services. I love to travel with my wife Fira and explore Central America where I get the opportunity to photograph the landscape and gain ideas for sketching. I am a father of 2, grandfather of 6, and great-grandfather of 2.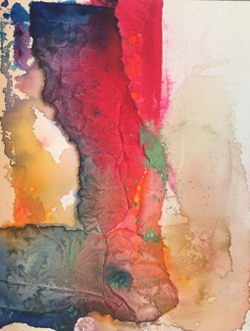 Artist: Theresa Lugo
Smoky Hill Library
Artist's Statement: I enjoy seeing what other people find in my paintings. They are windows into other people souls.