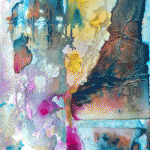 Artist: Theresa Lugo
Southglenn Library
Artist's Statement: I paint because it makes me happy, so I have attractive images. This is not as simple or easy as it might seem. I think being an artist is a lifelong goal that can be achieved with constant reevaluation, experimentation, and reflection.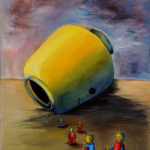 Artist: Matt Lay
Eloise May Library
Artist's Statement: My work communicates presence, personality, and emotion through portraits and scenes that each has their own story. Some may feel like interrupted moments in time. Others simply express emotions such as joy, fear, humor, solitude and intimacy, which often originate from people and moments in my own life. The stories used to express these emotions might be fictional or drawn from thematic subject matter but the feelings behind them are real.
Artist: Paint Box Guild of Littleton
Smoky Hill Library
Artist's Statement: The 40 active member, not for profit, Littleton, Colorado-based guild was established in 1973 by Lucille Grisham and encourages beginning artists, as well as advanced, being a forum for exchanges of ideas, encouragement and venues for exhibition.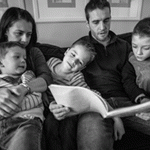 Artist: Stacie Ann Smith
Koelbel Library
Artist's Statement: HOME... is where we find comfort and meaning. In a blanket, near our siblings, in our mother's arms. Is there a part of home in the NICU or as we move from state to state? This photographic series depicts the comfort, care and struggles that are part of home. Seen are the freedoms and joys of youth, the growth in adolescence, and the traditions created at... HOME