PARDON OUR DUST, IT'S CONSTRUCTION TIME
PARDON OUR DUST, IT'S CONSTRUCTION TIME
We're hard at work to make sure our libraries keep up with the growing needs of our community (that's you!). From freshening up spaces with paint and carpet to building new libraries, we're thankful for your support and for being a valued member of Arapahoe Libraries. Here you'll find the latest remodel and construction news. Questions? Contact us.
The background image above in gray is from Koelbel Library's groundbreaking ceremony. Koelbel Library opened in 1992.
NEW, LARGER LIBRARY FEATURES
Natural light
Open floor plan
Two meeting rooms
Two study rooms
Living room featuring coffee machine
Dedicated areas for children and teens
Outdoor play space
Access to public computers, laptops and WiFi
Electric car charging stations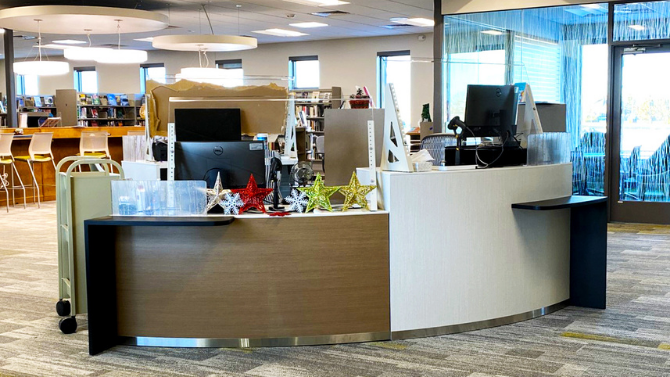 CASTLEWOOD LIBRARY: NOW OPEN
Castlewood Library is open to patrons for browsing, library computer use and holds pick up. This location is also accepting materials returns and continues to offer Park and Pickup, opens a new window in addition to phone support, online chat, tech support and more.
For the latest information, visit the Services Updates.
FEATURES OF THE REMODELED CASTLEWOOD LIBRARY
Beautiful, updated space with natural light

Increased accessibility to library materials

 

Enclosed children's area

 

Larger M

akerspace

 

Lounge area with coffee vending

Improved traffic flow in the parking lot

 

Convenient driver-side book drop
The new Davies Library opened Tuesday, September 3, 2019. Update your address books to the new address, 128 2nd Ave., Deer Trail, Colorado, 80105. Davies Library has its own entrance and is located in Deer Trail's new pre-K through 12th grade school.
ABOUT THE NEW DAVIES LIBRARY
The voters of Deer Trail approved a tax increase to accompany the successful request for a BEST grant to build a new school! In 2017, community meetings were held and contractor and architect firms were hired. Ground was broken May 2018 and construction began on school-owned property east of the old school. The new school, for preK–12 grades, incorporates state-of-the-art technology and community space.
The new, larger library features:
Open floor plan
Natural light
One meeting room
Two study rooms
Access to WiFi