YOUR TICKET TO A DENVER EXPERIENCE
Reserving an Exploration Pass does not guarantee entry.
Many attractions are offering limited, scheduled entry for paid guests, members and pass holders. Please check with the destination you plan to visit directly for up-to-date information.
Any Arapahoe Libraries card holder can reserve an Exploration Pass, which grants admission to several metro-Denver attractions at no charge. Play tourist or bring along your friends and family.
What will you discover in the Mile High City?
Book passes up to 30 days ahead of time.
Maximum of two (2) passes booked at one time.
Each pass covers two (2) or more visitors. See pass information for details.
Need help booking or canceling passes? Call 303-542-7279 (303-LIBRARY).
YOUR ADVENTURE STARTS HERE
Place a hold on an Adventure Backpack that includes a free state parks pass! The Colorado State Parks Pass can be checked out for one week and grants access to any Colorado State Park. 
With 42 State Parks to explore in the Centennial State, which one will you explore first?
We love how much you love the Adventure Backpacks: this is a very popular item and we are unable to provide more at this time. While you wait for the next available backpack, visit Colorado Parks & Wildlife, opens a new window to learn more about Colorado's State Parks or ask Colorado Parks & Wildlife how you can support library programs, opens a new window just like this.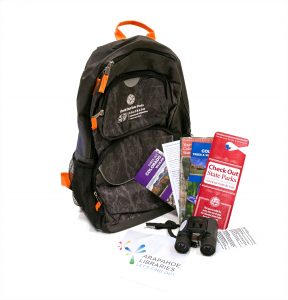 What's inside each Adventure Backpack?
A pass to any of Colorado's 42 State Parks
Binoculars
Colorado outdoor guides
State Parks guide
Activity ideas
Jul 21st | 4:30pm - 5:30pm
Colorado's own Gitanjali Rao has a mission to create a global community of innovators & can help you turn your inventive ideas into reality.
Nonfiction books about our fair city.