Arapahoe Libraries is proud to host art exhibits each month at Eloise May, Koelbel and Smoky Hill libraries. Library galleries offer the community a place to view a variety of art at no cost while also providing visibility to local artists. A volunteer art selection committee selects exhibits based on artistic quality, variety of exhibits and the suitability of format for each exhibit space. 
Have a question about the galleries or interested in showcasing your art? Visit the Art Galleries page for more information.
---


Teen Art Show
We are excited to celebrate and show case the immense talent of teens from across Arapahoe Library District this August at Koelbel Library.
Please join us for opening night on Thursday, August 3 from 5-7 pm in Koelbel meeting room A and the gallery hall.
First Place
Amelia Shelburn
Age: 14
Digital Art
A character is in front of smoky clouds and wearing a gas mask covered in flowers showing that we need nature to Breathe.  
Second Place
Grant Bailey
Age: 12
Photography
This is a Zizina labrabus, the common grass blue butterfly, which is found in most parts of Colorado.
The picture was taken using a macro lens and a flashlight. This creates the dark background and amplifies every aspect of the butterfly's natural beauty. Look closely and absorb all the details.
Third Place
Ayah Al-Masayabi
Age: 16
Painting
Shopping List is an ode to the millions of times I walked through the aisles of my local King. Soopers. This nostalgic piece holds the memories of me going with my parents to get a snack or something for dinner, from my childhood to now. The memories made in those aisles make the place special to me.
---
Jeremy Janus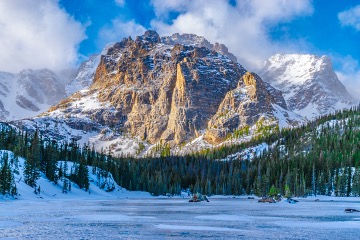 Artist statement:
I strive to continue to push myself further into sharing the beautiful moments I am blessed to experience in life while connecting with others and trying to be a positive light in the world. My experiences and journey have shown me that with family, friends, and faith anything is possible and that when you change your perspective, you can inspire the world.
What is your favorite piece in the show and why?
My favorite piece in the show is "Sunrise at Loch Vale" because of the effort it took to take it. I took the shot back in 2019 on my first solo snowshoe which was over 6 miles round trip. The sunrise hit the mountain just perfect before a massive snowstorm blew in.
What motivates you to create?
Creation comes from my desire to make the world around me a better place. I live to inspire and influence the people around me and I love showing them a part of nature that they may never see or experience for themselves.
Who are your biggest artist influences?
My biggest artist influences are other photographers and artists that I have met through my nature and photography adventures. They push me greatly with their vision of the world and show me other possibilities that I didn't see myself.
What message do you want your art to convey to viewers?
I want my art to show people the beauty of the world and to show them that no matter where their life is right now, they can always find a way to seek the beauty that surrounds us every single day on this wonderful planet.