Arapahoe Libraries is proud to host art exhibits each month at Eloise May, Koelbel and Smoky Hill libraries. Library galleries offer the community a place to view a variety of art at no cost while also providing visibility to local artists. A volunteer art selection committee selects exhibits based on artistic quality, variety of exhibits and the suitability of format for each exhibit space. 
Have a question about the galleries or interested in showcasing your art? Visit the Art Galleries page for more information.
---


Ryan Costanzo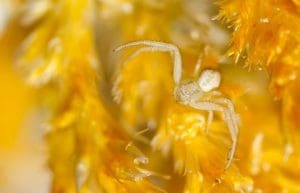 I've been a photographer my whole life, both professionally and as a hobby. Whenever I am out shooting, I inevitably notice the bug around me and start taking their photos. Several hours later I realize that my family has finished the hike without me, and I've barely left the parking lot. In the end I capture a close-up moment of a tiny world that mostly goes unnoticed.
---


Abilene Brychel
Moments in Time: 24 Hours Captured in Colorado's Parks
12 pieces are in the gallery. One for every 2 hours in a 24-hour time frame; all from throughout Colorado.
For as long as I could hold a camera, I have been capturing the world around me.
From portraits to landscapes, my favorite photos are the ones that capture a story, a moment in time. As I have gotten older, I challenge myself to go beyond just framing and clicking the shutter but to explore light, movement, and open exposures.
It brings me joy to see my photography remind someone of a time and place they treasure. Or inspire them to go capture their own memories.
What is your favorite piece in the show and why?
7 pm or Sunset on the Sand Dunes. We scrambled to the top of the sand dunes after it had rained, the sky parted and we watched the most amazing sunset. It was just a surreal core memory.
---


Karen Morris
My World of Color and Whimsy
Everyone should enjoy a little color in their lives . . . mixed generously with some whimsy.