People frequently ask how to get their product into stores. Their dream is to get their product into a major chain or stores, so that it is available to be purchased in many cities across the country or even the world! 
Here's the brief answer (or TLDR): You will probably have to start small and local, then you can build up your reputation and brand. If you'd like the longer answer and suggested resources, keep reading.
Building Your Brand
There are two parts to building your brand. First, you need to identify your target market and do a great job selling your product to them. Second, you need to build up the reputation of being a reliable supplier with a quality product.
The great news is that the library has lots of resources to help identify your target market. These include:
DemographicsNow is an amazing database that is free with a library card. It will help you research the demographics, psychographics and consumer spending related to your product.
Data Axel Reference Solutions allows you to identify people who have hobbies or interests related to your product, and you can even run lists of them for direct mail advertisements!
Ask a Librarian appointments allow you to meet with your friendly business librarian who will help you learn how to use both of these databases.
After you identify your target market and start selling to them online or in-person at events, such as farmers markets or holiday fairs, then you'll likely be ready to start finding local businesses to sell your product. 
Here are several resources from the library to help with selling and marketing your product:
Product Research 101: The Essential Guide on How to Find the Perfect Niche and Product That Sells

For even more tips, read this Social Media Made Easy blog!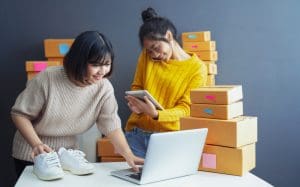 Approaching Larger Businesses
Once you've identified your target market and built up a great reputation for your product, you'll be ready to start approaching larger businesses. I highly recommend that you start by checking their website to see if they have a form to submit your request.
Next, you'll want to fully prepare for your application or interview by knowing the following:
Who is their target customer and why would they want your product?
What cities and/or areas of the country typically purchase your product?
Are you ready to scale up production to meet the demand? If so, have figures and facts ready to show you can do this.
You might think the company will only care about questions #1 and #2, but I know that they also care about #3 after talking to several people who have made the leap to major stores.
My favorite is the tale of the donut shop owner in Santa Fe, New Mexico. While I was on vacation, I went to a well-known donut shop and when I found out the owner was taking my order, I chatted with him about his success. He was very lucky that a major grocery retailer found him and wanted to sell his donuts at their stores, but before they'd start selling his product, he had to scale up his production model so he made enough donuts for all of their stores! It took him six months to get his production to that level, because he had to buy more equipment and hire additional employees.
Here are resources to help you prepare for question 3:
Product Leadership: How Top Product Managers Launch Awesome Products and Build Successful Teams

Product Entrepreneur: How to Launch Your Product Idea

Making the Pitch

Once you're in the room with a representative, you may only have a few minutes to make your case. This is your opportunity to make a great pitch. To help you do so, I highly recommend you rehearse your presentation and answers to the questions I mentioned above.
One way to prepare is to watch videos online of the best pitches on Shark Tank, such as this video of Wen Muenyi pitching his men's bedding company., opens a new window
Of course, the library has several excellent books on how to prepare a great pitch. Here are two that I recommend:
You may also have the chance to present a series of slides, so in the next month or two, I'll be writing a blog on how to build a great pitch deck.