Let's face it, there are a lot of misconceptions about libraries. 
What does the library look like to you? Many people picture a dimly lit building with dusty shelves of ancient books, where stern librarians in frumpy outfits "shhh" at people all day and rejoice in handing out late fees. And that might have been true, back in the 1900s, but things have changed quite a bit since then. Today, the library is a technology hub, a community center, a social service, a playgroup, a streaming platform and a space to explore what matters to you most. 
Inspired by the 2014 blog 7 Big Myths About Libraries by Erinn Batykefer, we'll show you ways libraries are changing to fit the needs of the community and reflect the people who use them.
---
Myth #1: Libraries are quiet spaces, no exceptions.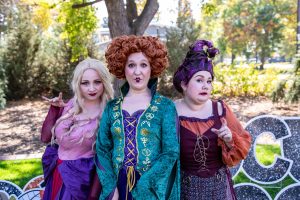 "While there are many libraries that still offer quiet areas for their patrons to study, read and contemplate, the era of strict shushing by librarians is becoming a memory."
The atmosphere is changing as libraries incorporate more hands-on programs, performances and lively workshops, opens a new window into their program offerings. These programs turn the image of the "quiet library" on its head and embrace a creative vision of the role of the public library - as a space to experience music and as a place to share stories through role-play."

Myth #2: Book clubs are bland. 
"Think book clubs are only for stuffy, literary types? Think again. Book clubs are finding new life by changing their target audiences. Now there are book clubs geared toward 20- & 30-somethings."
Some libraries are serving Books on Tap, opens a new window by hosting book clubs in local breweries. The Fort Worth Public Library, opens a new window has redesigned book clubs to be  "unique for a date with that special someone," like I Love Lucy trivia nights, line dancing and playing music together on the porch. Book clubs revolve around the reason they exist: people!
Myth #3: Library crafts and activities are old-fashioned, boring and only for kids. 
"Crafts are old-fashioned and boring? No way! Libraries are all about making things these days, and the hands-on stuff isn't just for kids."
At Arapahoe Libraries, we offer monthly classes, opens a new window and one-on-one appointments where people make projects using the equipment stations and materials in the Makerspace, opens a new window. The trend of including makerspaces, opens a new window in libraries provides an opportunity for all ages to learn and create in new ways.  The Bubbler, opens a new window at Madison Public Library offers a programming model for making in the library that engages an entire community. 

Myth #4: Libraries are about books and that's it. 
"Hate to read? Libraries offer so much more than books."
We have museum passes, opens a new window, state park passes, opens a new window, digital cameras, opens a new window, robots and so much more, opens a new window! You can even get your geek on and see librarians at FanExpo, opens a new window Denver. And that's not counting all the amazing events libraries now offer, from Basics of Beekeeping to Learn to Solder. Libraries are all about connecting people with information, even when that information lies in the expertise of an artist/maker/craftsperson rather than a book. 
Myth #5: Libraries are boring. 
"Behind many of these other misconceptions, there lurks a single, pervasive complaint: "Libraries are just so... boring."
Libraries are boring? We couldn't disagree more! Libraries are revolutionary; we champion the freedom to read what you want, opens a new window and provide access to information. Libraries are vibrant; we bring members of the community together. Libraries serve as a gateway to information, where YOU can connect to YOUR interests.
Even if you're not sure what you want to learn more about, we can help. If we don't have what you're looking for, we offer free help, opens a new window and work around your schedule.

Myth #6: Libraries are for nerds. 
"This misconception assumes that if libraries are boring, the only people who enjoy them must be nerds."
There are two problems here. Problem one, why is being a "nerd" a bad thing? Problem two, libraries are for EVERYONE. Libraries are meant to be a welcome space for everyone, regardless of how smart you are, how much money you have in the bank or even whether or not you live in our district, opens a new window. The library is a place where people can expect to be treated with respect and find the information they are looking for. Libraries put you in contact with information and media you might not be able to access elsewhere. Public libraries are built for the community and that means we are built for you! 
Myth #7: Libraries only focus on little kids. 
Erinn Batykefer, from the Library As Incubator Project, opens a new window, said it best.
"It's true that many libraries-- public libraries in particular-- put a lot of time and resources into children's programming and materials to make sure that young children have a strong foundation in literacy skills before they even get to school. What you might not know is that literacy doesn't end once you learn to read-- there are many kinds of literacy (digital literacy among them) that are essential for success in the 21st century. You gain different literacies throughout your life as you have experienced, whether you're 3 or 103. Library programs that explore media, making, and literature bring all these literacies together in one place and allow patrons of all ages to continue learning and gaining skills throughout their lives." 
Myth #8: Librarians can only work in a library.
People with a master's in library science degree work where information is needed. This means their job title may not include the word "librarian." They can be found in such diverse industries as biotechnology, software development, data management, advertising and marketing, publishing, museums, archives, government agencies or nonprofit companies such as the American Red Cross.

Myth #9: There's nothing "special" about libraries.
Did you know Colorado is home to special libraries? These libraries focus not only on serving diverse populations such as the blind and physically handicapped, but also house unique collections. The Colorado Talking Book Library, opens a new window (CTBL) provides free library services to Coloradans who are unable to read standard print materials. This includes patrons with physical, visual and learning disabilities. The CTBL collection contains audiobooks and magazines, Braille books, large print books, specialized equipment and a collection of descriptive videos. In October 2020, CTBL was serving 6,190 active individual patrons and 605 organizations, which include health facilities and retirement homes. 
---
The Truth: Libraries are for everyone.
They are safe, inclusive spaces that provide access to resources and opportunities that encourage learning, discovery, community and connection. Libraries foster curiosity and inspire change. So go ahead. Venture beyond the bookshelves and let's find out!