Hi everyone!
We wanted to let everyone know how much all of us in the early literacy department miss you! Over the next few weeks, we will share here what we've been up to. Feel free to drop a comment below to say hi and update us on what you're doing, too!
---
Christine: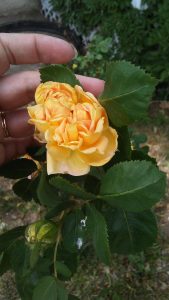 Hi friends!
I miss you all so much and can't wait until we can sing, read and play together again. I hope you all have been getting outside and enjoying the weather. While we've been apart, I have been busy! I've been planting a garden, caring for my house plants, caring for my family and converting a shed into a chicken coop. I hope you all have been finding ways to stay busy, also.
I really miss seeing all your smiling faces, because storytime was my favorite time of the week! I added pictures of my completed chicken coop and one of my roses. I can't wait to hear about all the things you did! Stay safe and healthy.
Love to you all!
---
Madhavi:
Hello friends!
I am Madhavi. We may have met at the library while I was a volunteer or a regular patron at Smoky Hill. I am very excited to share that I have joined Arapahoe Libraries as a Storytime Specialist. I am now part of the Child and Family Library Services department.
I miss being at the library and fondly remember the storytime families from Smoky Hill. I miss seeing your friendly faces, interacting and playing with you at storytimes, Family Place workshops and Little Explorers.
Hope you are enjoying summer. What are some of your favorite summer activities? I love to spend time at my backyard watching birds, butterflies, bunnies and squirrels. Today I saw a hummingbird and some monarch butterflies. I also enjoy walking around my neighborhood park.
Take care and stay tuned for virtual programs!
---
Mary:
Hello friends!
I miss seeing all of you at Learning on the Go. I look forward to when we can be together singing, reading and playing again, but in the meantime I hope you are doing those things at home! I have been spending lots of time making ukulele videos for you that I hope you are enjoying! I like making them, too. You can watch here: "Five Green and Speckled Frogs, opens a new window" and "I Love My Rooster, opens a new window".
I've also been spending my time at home taking walks, reading books, and watching lots of cooking reality shows. They make me hungry, so I've been baking, too. I learned how to bake bread and I also have made cookies and cakes. 
I like to make crafts, so sometimes I make things I can't eat. I've made a fabric box, a new spring wreath for my door and lots of face masks for friends and family. I'm slowly using up all the extra fabric I have at home! Here's a picture of a little heart I made. 
I'm glad I get to see my friends and family sometimes, too. We video chat and sometimes have meals together while we talk online. Here's a picture from when we celebrated my parents' anniversary with a video chat - I decided to wear a fancy sparkly dress since it was an important occasion! 
Take care, friends. I miss you, and I'll see you at a virtual storytime soon! 
---
Elaine:
Hello Storytime Friends!
I hope you are all doing fantastic and learning lots of fun things while we are apart. I miss all of your faces and hearing your smiling voices. Yep, I said "Smiling voices"! Even if someone is wearing a mask, I can always tell they are smiling and happy when they speak with me, can you? Sometimes their eyes are even laughing eyes, and I can tell they are smiling at me without hearing them speak. Can you do that too?
I have been very busy with puppies during this time apart. I started doing foster care for dogs with no homes and it has been my favorite. They have all been so nice, warm and fuzzy. We have five puppies right now and they are a handful and make us giggle a lot! I can't wait to hear what you have been up to. What has made you giggle, what has made sad, what has made you jump for joy, what has kept you busy? I miss hearing your stories. 
My two sons have been keeping me busy too! We've been biking, hiking, swimming and fishing as a family. They both just graduated and that has made for some interesting parades. My oldest son, Taylor, graduated from college. He likes computers so he went to school for Computer Science. My youngest son, Chase, graduated from high school and he really likes strategy games and lifting weights so he joined the military and will go to college next year. 
I wonder what you will choose to do when you grow up... You should tell me when I see you! I hope to see your laughing eyes and smiling voices soon! Stay healthy and keep busy.
---
Michele:
Hello to all my Storytime kids and families!
I hope you are all doing well and finding some fun things to play and do. I have been reading so much, singing (while trying to learn the ukulele), taking care of my plants, playing with my kitty and talking to all my friends and family. My wish for you is that you can read, sing, play and talk every day.
I miss seeing you. Love from Miss Michele.
---
Carina: 
ENGLISH 

Hello, dear little ones! How are you? I am fine and missing you all! Our friends Jac the cat, Lola the cow and Marta the frog want to say hello to all of you and that they miss you a lot. They are having fun in my home backyard! Lola and Marta enjoy long conversations and love seeing how the flowers bloom, while Jac climbs and walks in the tree branches! Here's a photo of those nice and funny moments. 
Thinking of you brings a smile to our faces and joy to our hearts! We miss you! Jac, Lola, Marta and Carina
SPANISH
¡Hola, queridos pequeños!. ¿Cómo se encuentran?. Yo estoy bien y ¡extrañándolos a todos!. Nuestros amigos "Jac, el gato", "Lola, la vaca" y "Marta, la rana" les envían saludos a todos ustedes y dicen que los extrañan un montón. Ellos se divierten en el patio de mi casa: Lola y Marta disfrutan de largas conversaciones y les encanta ver como crecen las flores mientras Jac ¡trepa y camina sobre las ramas de los árboles!. Les envío fotos de esos lindos y divertidos momentos.
El pensar en ustedes nos hace sonreir y trae alegría a nuestros corazones. ¡Los extrañamos!. Jac, Lola, Marta y Carina.
---
Elisabeth:
Hi friends! 
Gosh, I really miss seeing your faces but I hope you are having fun with your family at home. While we've been apart I have been doing my favorite things like reading, cooking, walking, playing with my kids and napping. Peek-a-Boo Kitty is here with me too. She says hello and that she misses all of you as well.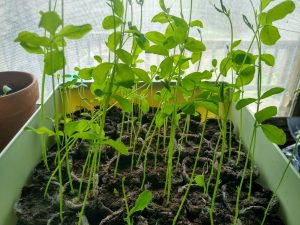 I have also been trying new things like growing plants for my garden. In this picture, I am growing flowers called zinnias and sweet peas. I picked those flowers because their names are fun to say. Try it!  I planted them when they were just tiny seeds and I give them lots of sunshine and just enough water. It's fun watching them grow a little bit each day. I also sing songs to them that we sing in storytime. I think they like Little Red Wagon the best. 
I'm bummed I can't go to the library or to the park or to the zoo right now. Not being able to do all the things we like to do is hard, isn't it? But, remember, you can do hard things. I can too. We will see each other again soon and I can't wait to hear about all the cool stuff YOU'VE been doing this spring. I bet you're growing just as fast as my flowers and I also can't wait to see how BIG you're getting! 
---
Laurie Anne:
Hi kiddos,
I can't tell you how much I miss all of your smiles and hugs and sharing stories with you. I hope you and your family are having fun playing, reading, singing and laughing together. I've been painting a bedroom for my grandson, Kyson, who is two years old so he can spend the night at my house. Kyson's room will have lots of books and a special chair so we can read stories together. 
I've also been reading, watching movies and playing card games with my husband, Ernie and my daughter, Abigail. Probably one of my favorite things is spending time in my backyard cleaning up the  garden and getting ready to plant vegetables and flowers. Here is a picture of some of the flowers that have already bloomed.
Here is a picture of the puzzle I just finished. I really enjoy spending time working on puzzles and have already started another one.
---
Steffen:
Hey friends! 
I sure do miss seeing you all at the library! I think about you storytime families all the time. 
I spend my days writing in my journal and looking out the window trying to spot birds. My favorite bird is a Chickadee. I also like to watch people walking and running by on their way to the park. I keep trying to take online exercise classes, but often I get distracted and just put on loud music and instead I take goofy videos of myself on my phone to send to my friends. 
My favorite Stay at Home Album is called This is Acting by a singer named Sia.  
One of my brothers is a second grade teacher and I am babysitting his classroom fish tank. I'm attaching a picture of a fish called a Dalmatian Guppy. Can you guess why it's called that? 
I'm also sending you a selfie! To sign I Love You, put up your thumb, index finger and pinkie finger, while keeping your ring finger and your middle finger down. Hold the hand out, palm facing away from you and move it back and forth slightly. Did you try it? 
Much love to you all! 
---
Carina (in English and Spanish):
ENGLISH
Hello, my little ones!
I want to let you all know that I miss you and although I am at home I know we are all together under the bright Spring sun! I want to share with you that lots of birds of different colors (including a woodpecker!) come to my home backyard and visit me during the day, some funny squirrels play among the pine tree branches and a mischievous snake comes to take a nap under a catalpa tree!
I am thinking about you every day and I am sending you the two first flowers I have in my backyard and all my love!
SPANISH
¡Hola, mis pequeños!
Quiero hacerles saber a todos que los extraño y aunque estoy en casa, yo sé que todos estamos juntos bajo este ¡brillante sol de primavera! Quiero compartir con ustedes que muchos pájaros de diferentes colores (¡incluso un pájaro carpintero!) vienen a mi jardín a visitarme durante el día, algunas graciosas ardillas juegan entre las ramas de los pinos y una traviesa culebra viene a tomar una siesta bajo el árbol catalpa.
Pienso en ustedes cada día y les envío fotos de las dos primeras flores que crecieron en mi patio y ¡todo mi Amor!
---
Lori:
Hello sweet Storytime friends and grownups!
I really miss all of you and hope you are doing well!
While at home, I have been taking walks around my neighborhood, roaming out back with Rudy and Mr. Tim, reading and learning new rhymes. I am also working on a playlist for my songs to share with you all! Mr. Tim has quite a sweet tooth and sometimes I bake a treat as well! Last week I made chocolate chip cookies and we may try to bake scones soon.
This is my Great Dane, Rudy. He will be 4 years old next week and weighs 140lbs!
---
Lauren:
Hi, friends!
I hope you're enjoying the beautiful Colorado weather and exploring as much as you can. My toddlers and I have been exploring what we have in our backyard. We've played I-Spy, planted some flowers, carrots and tomatoes and taken lots of bike rides!
My boys also love nursery rhymes, especially "Hickory Dickory Dock". We made a clock out of two cardboard boxes and drew a clock face as we sang the nursery rhyme. Sometimes we also pretend to be the mouse running down the clock and squeak around the house!
We are, of course, also reading a lot together. I hope you are reading with your families, too! I can't wait to see you all again. Stay safe, and keep reading and playing!
---
Paige:

Hello storytime friends!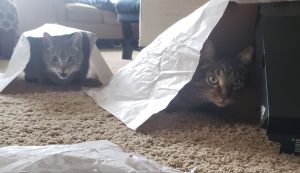 I miss your company and happy smiles! Every time I play "What a Wonderful World" by Louis Armstrong, I imagine all of us in the storytime room getting ready to read. How have you been entertaining yourselves? When my kids are not doing online school, I've been teaching them to bake and cook. We've also been walking, lifting weights and my sons go running. We enjoy our cats' antics, especially when they play with the sheets of paper I left on the floor for them. 
Of course, I've been reading a lot and sharing book ideas with my kids. I tell them the Moosey Moose story by Chris Raschka and they think I'm ridiculous. But that's okay! I hope you've been reading, singing, playing and making up silly stories. Please share what's been fun or even tough for you. I'll talk to you again soon!
---
Amika:
Hello storytime friends!
I miss reading with you and seeing all of your wonderful faces! I guess I will just have to make do with this little girl's face for now. Her name is Princess and she can be a little skittish with new things. After morning coffee, I think I'll read to her a story I know about a brave cowboy. Then, onto our daily walk. And repeat: coffee, read, walk. I'm so grateful for the sunshine! 
Big Virtual Hugs!
---
Tina:
Hello everyone!
I have missed seeing your smiling faces at the library. Since I have been home, I have used my creative skills cooking, scrapbooking and doing online chats with friends and family. I have a picture here to help with my online communication. Can you guess what it is?
Looking forward to seeing you soon!
---
Clair:
Hi Friends and Neighbors!
I wanted to say hello and tell you how much all the Storytime Specialists miss you! I would love to read any comments you would like to share below about what you are doing during this time,
 and I know the rest of the team would enjoy reading them as well.
 My son and I have been getting outside as much as we can. We are working on his homeschooling and have only hit a couple of bumps. We have also been finding ways to spread love and cheer to everyone with the new distance that is between us all. We love doing crafts and art and have started a YouTube channel with How to Draw art videos for kids! Check it out here, opens a new window.
I hope you are all happy and healthy and keeping safe at home. I look forward to seeing all of you again!
---
Here's me, Mollie!
My six-year-old daughter, EJ, and I have been taking long walks, writing letters, playing dress up, video chatting with friends and family, reading lots of books, wiggling with GoNoodle, opens a new window videos and working on school work. We even learned new card games and we try to play every day! Our cat, Calypso, wants to play with us, but she can't be bothered to learn the rules.
We are thinking about you every day and we hope you and your families are safe, healthy and happy.
---