This year has been a whirlwind of fantastic art and creations by local teens. We are so happy to have had a month to showcase all their geeky fandoms, and we are excited to announce the winners of the 2017 Geek Out contest!
This year, there were 98 entries—from 2D art to cosplay to Legos and more. We saw a plethora of incredible creations by teenagers all over the library district. Judging this year was incredibly difficult. 32 judges worked very hard to make sure they gave fair scores as well as left feedback for all participants.
While we can't give everyone a prize, as much as we'd like to, we were able to narrow down the top winners to the following teens:
First Place:
Nathan (age 15) for Rick Sanchez from Rick and Morty

"My entry is a model of Rick Sanchez which I created with 3D printing and sewing. I designed the body and head in Blender, 3D printed them, and painted the head with acrylic paints. I sewed the clothes on a sewing machine."

Remaining winners listed in alphabetical order:
Amie (Age 16), Hannah (Age 16), Anthony (Age 12) and Sam (Age 14) for Their Book Trailer for The Kane Chronicles by Rick Riordan
"This creation began in May and was worked on all the way until the end of October and took approximately 132 hours. There were many aspects to the making of this. The entry itself is called 'trailer' in the project file."
Johnny (Age 15) for Stranger Things 2D Art
"El and Will with the recurring song-- 'Should I Stay or Should I Go.' I spent a week on this with watercolor, ink, and marker/brush pens."
Kate Wilson (Age 12) for The X-Files Portfolio
"Manuscript titled 'The Mysteries of Dana Scully' inspired by 'The Mysteries of Harris Burdick' by Chris Van Allsburg"
 

Lydia (age 16) for Star Wars 2D Art
"Two excerpt works for the Star Wars fandom. Left-side titled, 'Belief & Vanity,' and the right side is unnamed."
 

Marissa (age 14) for Aranea Highwind Cosplay from "Final Fantasy XV"
Olivia (Age 15) for "Halo/Red vs. Blue" Cosplay
"This is my cosplay of Felix from Red vs. Blue. He is also a Halo character. I made the whole costume out of EVA foam and hot glue. I made every piece except for the blue energy sword."
Rihn (age 16) for Boku no Hero Academia Cosplay
"Basically, this is part of a main character's Hero outfit. I've built these 3-4 times to get the perfect result. They are built 100% out of EVA foam. This took a cumulative 500+ hours (3 weeks) for all of them. They are wearable and I have sewn/built the rest of the outfit. This was the first time I've ever used EVA foam to build anything and was a super cool way to be challenged and to learn!"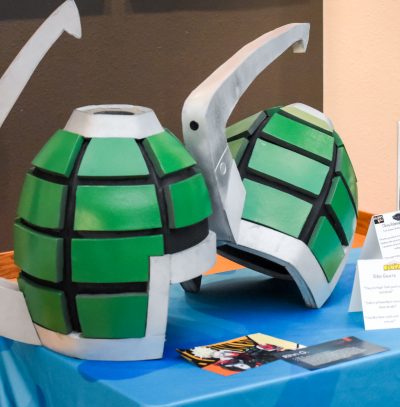 Sarah (Age 18) for "Overwatch" 2D Digital Art
"This is Lucio from the game Overwatch! He is wall riding on his home map in Numbani. This entry took ten hours in total and all of my references were from the official Overwatch website on Blizzard."
Sebastian (Age 14) for the Portal Gun from "Rick and Morty"
Thank you to all of the fantastic teenagers for having the passion, talent and courage to participate in this contest! We hope to see you next year!