Love coffee and books? Let your drink of choice lead you to your next book recommendation (in this very unscientific and completely made up blog).
---
If you like black coffee, you like things straight to the point, fresh and compelling. Why not see what new nonfiction books are on order, and see if you'll be first on the hold list? You may also like sweary self help books and true crime, and you're not afraid to hunker down with a classic novel when the mood strikes. 
---
If you like Chai, you like to linger over your drink and imagine far off places. Try reading a travel memoir or choose your next travel destination, via road trip (of course) so you can see the sights and take your time. You may also have a light heart, so you'll likely enjoy books that feature funny travel mishaps too. You appreciate art, so spend time poring over the artwork and design that goes into graphic novels. You also  know the pleasure in rereading books.
---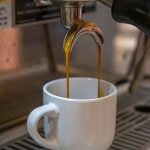 If you like espresso, you're always on the move. Take a minute to read about mindfulness and, you know, stop and smell the roses. Can't sit still long enough for that? Pick up Atlas Obscura and see the world's hidden wonders, or use some of your energy to explore Colorado with free museum and state parks passes. You also appreciate traditions, but like twists, so try a weird western. You don't believe the adage "you can't teach an old dog new tricks," so read a book by authors who debuted over the age of 40.
---
If you like lattes, you probably enjoy a mix of fiction and nonfiction. Browse monthly staff picks and our favorite lists for books to add to your to-be-read list. You're probably also interested in reading local Colorado authors and seeing all that Colorado can offer in a go outside guide, opens a new window. And you probably have a soft spot for animals and picture books.
---
If you are always curious what the next coffee trend is (remember unicorn frappuccinos?), then you're always checking to see what our cafes are offering each month. You're curious about what book clubs are reading, so see what Reese Witherspoon reads. You might also be mourning the end of Harry Potter ("Always"), but you don't have to be with these books for grown up HP fans. But you also have a surprising interest in history, even if it's not your own family history, opens a new window, and you've always wondered what drives people to be successful entrepreneurs, opens a new window.
---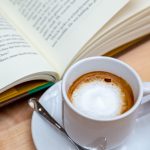 Like macchiatos? You're still high energy, but you probably enjoy sitting down to learn something new, from cool facts to interesting personal stories. Coffee table books are sure to please you. You likely have a soft spot for mysteries too, so read about some lady sleuths. You also probably enjoy historical fiction that has a blend of fact and fiction, and you've been known to sit down with a book of poetry when the mood strikes you.
---
Enjoy a cold brew? You have unique tastes, from prehistoric historical fiction to controversial books to bicker over, and you're not afraid to expand your reading horizons with grimdark fantasy or afrofuturism. You also ask big questions, like what if people were immortal or if you'd be brave enough to defy the rules, opens a new window? You'll also always interested to know an author's backstory.
---
"Coffee? I'm just here for cafe snacks." You're honest about what you like (and don't!) and the first one to hear about new restaurants in town. Check out these blogger-turned-author cookbooks. Make a recipe from staff's favorite cookbooks. If you like stories with your recipes, these cookbooks are sure to fill you up. And stop by Koelbel and Smoky Hill libraries for a snack! And if your hands are full of tasty treats, then you don't have hands free to turn the pages, so download an audiobook that begs to be listened to instead of read.
---
Want personalized recommendations? Contact us, opens a new window.
Tell us your favorite drinks and books in the comments below.