Pick Your Favorite Disney Princess, We'll Pick Your Next Romance Read!
In celebration of Disney Day, December 5, we'll help you pick your next read. All we need from you is to pick your favorite Disney movie from this curated list and you'll get an excellent recommendation for your next romance read.
While the title implies more of a Beauty and the Beast vibe, the heroine has six brothers and it's very reminiscent of the seven dwarves.
This book starts off the same way the classic fairy tale does. But there is a twist about a third of the way through that turns the story on its head and it's a great story.
If you like Aurora, try Landline by Rainbow Rowell.
This book has nothing to do with fancy dresses or royalty. But it is about a woman who is asleep in her life, going through the motions of work and ignoring her husband. But then she gets the magical chance to fall in love with her husband all over again. It's a beautiful second-chance romance with a speculative fiction twist.
If you like Ariel, try Spoiler Alert by Olivia Dade.
There is something about a woman who hides her true self and has to come into her own in order to really fall in love. April is no different. And she falls in love with a kind of royalty, a famous actor who has secrets of his own.
If you like Belle, try You & I Rewritten by Chip Pons.
This book centers around book and the publishing industry. Plus the romantic interest is a broody boss, not unlike the Beast himself. 
If you like Jasmine, try A Princess in Theory by Alyssa Cole.
Even though Jasmine is royalty in her story and she has to hide who she is, it's the hero's turn to be hidden royalty in this book. She gives him a new perspective on life and it's delightful to see their journey blossom. Plus, there's a journey to a whole new country to boot!
If you like Pocahontas, try Wild Rain by Beverly Jenkins.
Spring is one of the most spirited and unique romance heroines out there. This book is set in post-Civil War America out west and offers such a unique perspective of that time in history, with a love story woven throughout.
Thomasina is a master of disguise and Philippa wants to rebuke society. It's a perfect love combination for anyone who adores strong heroines in their romance novels.
If you like Tiana, try Never Kiss a Duke by Megan Frampton.
This book is really unique because it's a historical fiction but isn't all based in high society in regency times. The heroine owns her own business and the hero has a fall from grace as a former duke. She teaches him the power of going after what you want while he helps her loosen up, just like Tiana and her prince.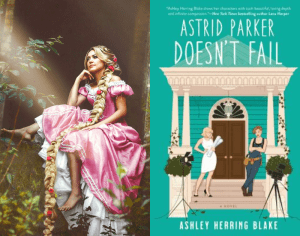 Astrid's mom is just as overbearing as Mother Gothel. While this is a romance, there is a great B plot involving the heroine and breaking free of familial expectations and finding what she wants in life.
If you like Merida, try A Week to Be Wicked by Tessa Dare.
It seems like a crime not to pick a Scottish romance book for this one, but this book has a strong heroine, a long journey to Scotland and an enemies-to-lovers romance that will remind you of Merida's inner fire. 
If you like Moana, try Melt with You by Jennifer Dugan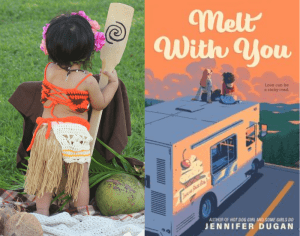 This is an enemies-to-lovers, Young Adult romance about two girls who have to travel cross-country in an ice cream truck. It's as sweet as it sounds. The journey mirrors Moana's in the way they discover their inner power (and desire) as they take a long, life-changing journey.
If you like Raya, try It Takes Two by Jenna Holiday
The heroine's wit is as sharp as Raya's fighting skills. There is also a light humor to this book through serious subject matter, just like the movie.
---
Check out the full list of books mentioned in this blog! 
---