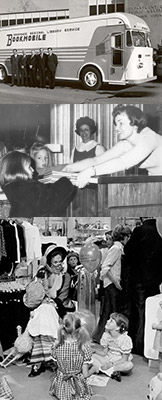 The Arapahoe Library District was established in April 1966 to provide public library service to all residents of Arapahoe County, except those living in the cities of Littleton, Englewood and Aurora. Residents of these cities are served by libraries established prior to 1966 that are funded and maintained by their respective city governments. All Arapahoe County residents, however, are free to use any of the libraries in the county. Residents can also participate in the Colorado Library Card Program, which allows them to borrow items from any participating academic, school and public library in Colorado.
The Library District serves a diverse and varied population covering the rural areas of Byers and Deer Trail, the cities of Bow Mar, Centennial, Cherry Hills Village, Columbine, Glendale, Greenwood Village and Sheridan, and the unincorporated areas of Arapahoe County. The Library District is also a major resource for elementary and high school students of the Littleton, Cherry Creek, Sheridan, Byers and Deer Trail School Districts, as well as for those receiving private and home schooling, and students attending local colleges and universities. The Library District's legal services area map provides exact boundaries.
Funding is provided through a 4.9 property tax mill levy. Any increase in the mill levy must be approved by a vote of the people. Other revenue sources include income from fines, fees, grants and interest on investments. A non-profit Arapahoe Library Friends Foundation was established in 1990 to raise additional money from the private sector and to serve as an advocacy group for the Library District. The Foundation and its partner, the Friends of the Arapahoe Library District, which was established in 1995, support a variety of Library District programs and services.
The Library District's Board of Trustees is appointed by the Arapahoe County Commissioners and the Board of the Deer Trail School District. (Under the 1996 state library law, library districts had to be established by two governing entities. The Deer Trail School District and Arapahoe County are the two entities.) Other than the appointment of the Library Trustees, the District has full autonomy over its operational and financial administration.