It's as easy as making soup – according to the brewers at Halfpenny Brewing Company! Brewers Alon Eliav and Chris Reigrut introduced us to the art of making home-crafted beer, from its history, processes and ingredients, on January 9 at Koelbel Library.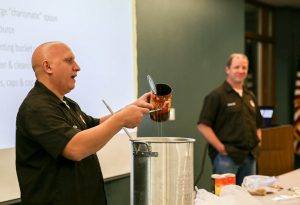 Speaking of, did you know that you only need four ingredients to make beer? The magical formula is water, malt, hops and yeast. Tonight's menu was American amber ale and the batch should be ready to taste after a few weeks. 
Missed Koelbel's event? Join us for The Art of Home-Crafted Beer on January 24, 7-8 pm at Southglenn Library.
Don't forget to enter our Name that Beer! contest, January 9-February 10. Let's help give Halfpenny's delicious oatmeal stout a literary name.
Visit our Flickr gallery for more photos of the fun.