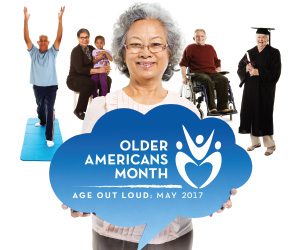 Age Out Loud! for Older Americans Month!
Older Americans Month (OAM) is celebrating Age Out Loud! Discover new ways to Age Out Loud! with Arapahoe Libraries:
Age Out Loud! reflects what older adults have to say and redefines aging. OAM is the opportunity to celebrate what getting older means today.
Now more than ever before older Americans are working longer, trying new things, engaging in their communities, taking charge and striving for wellness. As a result people are redefining aging by trying new careers, classes and hobbies. So this month let's celebrate Age Out Loud!
Discover ideas and resources on how to Age Out Loud! on OAM's website.