---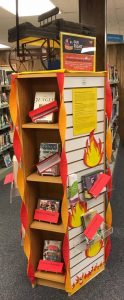 Since 1982, book lovers and the book industry have come together to celebrate the freedom to read and bring awareness to challenged and banned books. In 2016 alone, the American Library Association recorded over 300 challenges or requests for an item to be removed from library shelves. Check out the 2015-2016 annual report to learn more about what books were challenged most frequently and why.
You may be surprised to know that many of the most frequently challenged and banned books are for young adults or children. Check out our lists of picture books and teen books that have been banned, and learn more about how to talk to kids about their first amendment rights from one of our early literacy librarians.
At Arapahoe Libraries, we offer a wide choice of print and online resources that feature a variety of topics and viewpoints. We celebrate YOUR freedom to read, seek and express ideas. We aim to turn every search for knowledge into a helpful adventure. Curious about some of our favorite banned books? Check out these staff picks!